Before and after photos
of conservation and restoration.





To see another example of Marie's or Maria Martinez' work click the button below


How did we recreate
the original painted
design with very little original information?
Research. . .
From: Generations in Clay-Pueblo pottery of the American Southwest
By A.E. Dittert, Jr.
and Fred Plog.

Owner's reaction to the restoration
Previously restored condition shown here. No previous effort was made to conserve the original surface.
Click on Image to see larger

Once the paint is removed you can see the cracks plastered in and the original surface sanded and damaged by the person who spray painted it, and note the oval shaped element from the original surface.
This is a photo of the
olla after it has been restored. The oval element is the original and was conserved to protect and preserve the past..
Top view after
restoration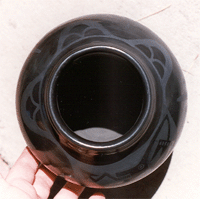 Top view before
restoration. Note the cloud element
that survived was also conserved and
not touched in the restoration.